The winners of IDDT's lottery draws!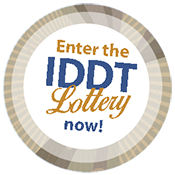 We are delighted to announce the winners of the October 2023 draw.
1st prize of £480.96 goes to Claudine from Manchester
2nd prize of £360.72 goes to David from Newport
3rd prize of £240.48 goes to Barbara from Calver
4th prize of £120.24 goes to Brian from Glasgow
A huge 'Thank You' to everyone who supports IDDT through the lottery.
Readers may notice that Sylvia from Kettering often wins a prize in the draws. IDDT is very grateful to her because she does support the Lottery, and therefore IDDT, by purchasing a lot of tickets.
September 2023
1st prize of £487.20 goes to Jeff from Loughborough
2nd prize of £365.40 goes to Richard from Stondon
3rd prize of £243.60 goes to Sandra from Kettering
4th prize of £121.60 goes to James from Rainham
August 2023
1st prize of £487.20 goes to Peter from Nelson
2nd prize of £365.40 goes to Anon. from Carlisle
3rd prize of £243.60 goes to Anthony from Rhyl
4th prize of £121.80 goes to Neil from Thetford
Thank you to everyone who joined in IDDT's lottery.
If you would like to join in for just £2.00 per month, then give us a call on 01604 622837 or email karl@iddtinternational.org
Past winners of the IDDT Lottery
The IDDT Lottery
The IDDT Lottery helps to fund the provision of FREE IDDT booklets and leaflets, which means that information about the various aspects of diabetes is available to everyone, regardless of income. All the money that we raise through the lottery goes directly to help people with diabetes and their families.
It only costs £2.00 per month to enter the monthly draw. 60% of the total subscriptions (the prize fund) will be paid out as four cash prizes of 40%, 30%, 20% and 10% of the total prize fund.
The winners each month will be informed and details published on our website at the end of the first week of the month. The winners for the previous three months will also be published in our Newsletters, although there is the option to remain anonymous.
Playing is easy. Just fill in the standing order mandate in the Lottery information PDF below, return the form to us and we'll enter you into our monthly draw. You are welcome to enter as many times as you like through multiple sign ups if you want to increase your chance of winning!
The more people who join in, the bigger the prize!
To find out more and to join the lottery click here