IDDT Launch Patient Hospital Passports
9th October 2010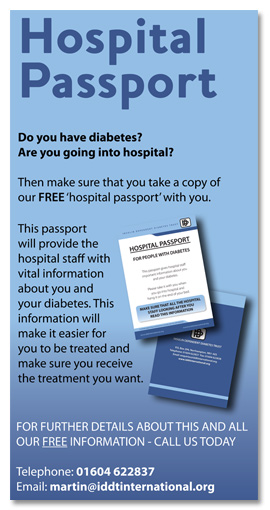 The charity, the Insulin Dependent Diabetes Trust (The Trust) launches their free patient 'hospital passports' at their Annual Conference in Birmingham. These 'passports', produced for people with diabetes, are intended for patients to take into hospital to provide hospital staff with vital information about their diabetes and how they manage their condition.
Jenny Hirst, The Trust's co-chair commented; "As a patient focused organisation we are really concerned about the recent figures that show the high numbers of people in hospital with diabetes or diabetes-related conditions1. At any given time at least 14% of the adult population (in England) who are being treated in hospital have diabetes. In 2009, of those treated with insulin, more than 33% had medication errors on their charts2 and more than 25% of all patients experienced a hypo while in hospital. In addition, 1 in 30 required rescue with intravenous glucose or glucagon3 while in hospital."
Jenny continued, "These are shocking statistics and highlight to us the need for greater patient support when they are admitted to hospital. Our new 'Hospital Passport' provides all the details of the patient's diabetes and how they manage their treatment. This is essential information for hospital staff and will help them to treat the patient immediately and effectively, minimising any further harm
The Trust is also very aware of the difficulties that people with diabetes can experience in managing their condition while they are in hospital. The reasons for this are numerous but often it can be the change in mealtimes, restricted access to medication and food, as well as the general stress of being unwell and away from their family and friends. So the Trust hopes that patients will take the opportunity of using these 'Passports' whenever they are admitted into hospital.
The 'Passports' will be sent to all Trust members and they will also be available on request to non-members such as nursing and medical staff.
– ends –
Notes to Editors
1) How Many Patients have diabetes? An Analysis of Hospital Episode Statistics – Yorkshire & Humber Public Health Observatory. Diabetes Health Intelligence. June 2010.
2) Inpatient Diabetes Audit for 2009
3) Rapid Response Report by the National Patient Safety Agency [NPSA]
The Trust produces a wide variety of free information and is reliant totally on voluntary donations. For more information about the work of IDDT or to receive a FREE copy of the Hospital Passport please contact IDDT:
Telephone: 01604 622837
Email: martin@iddtinternational.org
For press enquiries please contact:
Veronica Wray
Direct: 020 8568 8546
Mobile: 07710 624454
Email: info@veronicawray.com
Back to news archive