Jubilee Parties
Jubilee Parties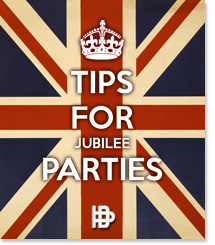 With the Queen's Jubilee this year there is a range of all types of parties being held to celebrate and no matter what type of party – it means food and drinks to tempt you to over-indulge.
For those with diabetes parties can be a challenge as to what to eat to fit in with their diet. Indeed, some people will avoid any party as they do not want to face temptations on offer.
The diet for the different types of diabetes does vary.
For those with Type 2 diabetes most people will try to reduce calories by watching the amount of fat they eat as well as avoiding large portion sizes.
For those with Type 1 diabetes attention to the carbohydrate content of foods plus watching saturated fat plus salt links in with the dietary advice usually given to this group.
For both groups watching that there is not an excess of fatty and sugary items is important. But remember this is a special occasion and do not be too obsessive about things. Enjoy yourself and be active with dancing or any sports involved to help use up the calories, plus assisting in moderating blood glucose levels.
So here are some ideas as to what to eat and drink both, if you are invited to a party or are organising one yourself.
Quite a few of the suggestions are also aimed to be easy on the pocket if you are holding the party yourself plus appeal to all ages. They are all also a bit different from the usual selections.
They are all intended to be easy to make and the sort of thing children can help with.
Garnishes and decorations for foods really give eye appeal and tempt people (especially children) to try what may be an unfamiliar dish.
Ideas for alcohol free drinks are suggested as for people with diabetes alcohol especially on an empty stomach is not advised. Also many people welcome an alcohol free alternative as they are driving.
Suggestions for food
If you are providing the food yourself or choosing from a buffet table here are some ideas:
Starters
Home made vegetable soup served in cups (often very welcome with the chilly days or evenings), make this from a selection of vegetables with lentils or beans added and made smooth in a liquidiser or with a whisk. Croutons can be added for an extra crunch.
Melon or grapefruit slices.
If you buy samosas, onion bahjees, battered items like fish or chicken strips or mini pies – heat them in the oven rather than deep fat fry.
Mains
A selection of cold roast meats or poultry'
Salads which are undressed and people can add a dressing such as a bought "light" one or homemade with vinegar or lemon juice or low fat yoghurt with lots of herbs or paprika added.
Make a selection of salads such as bean salads, salads with new potatoes, pasta, rice and cous cous as well as the more traditional ones with lettuce, tomatoes and cucumber.
Homemade coleslaw is easy to make and can include other vegetables like grated turnips for variety and use a low fat dressing.
Mini pizzas – just cut out from a thin pizza base and top with tomato and a sprinkle of cheese plus lots of vegetables or cold meats.
Jacket potatoes – these can be filled with a home made chilli or baked beans.
Bread, preferably seeded or granary, but how about making your own sour dough bread or soda bread – both are lovely especially when warm and then do not really need any spread.
Stuffed peppers or mushrooms – with a stuffing of breadcrumbs or rice mixed with herbs and pine nuts or chopped nuts.
Baked salmon or shell fish.
Home made mini burgers, minted lamb shish kebabs, chicken or beef satay.
Kebabs with a selection of vegetables.
Instead of sandwiches try filling slices of bread with a savoury spread and rolling up to make pin-wheels.
Filled wraps and pitta breads make a good alternative to sandwiches
If you buy sausages and burgers oven bake rather than deep fat frying them.
Desserts
Fruit salad.
Trifle made with fruit, low sugar jelly, custard made with skimmed milk.
Fruit terrine made with say strawberries, apples and blueberries or blackcurrants set in a clear or red jelly to reflect patriotic colours.
Blancmanges made with skimmed milk.
Lower fat cakes such as home made tea loaves.
Mini-scones made with a low fat spread.
Home made drop scones or griddle cakes with dried fruit in and made with skimmed milk.
If you buy ready made cakes and pastries serve small pieces and also serve with a selection of fruits.
Nibbles
Savoury fresh popcorn flavoured with finely grated cheese.
Nuts and seeds heated in pan and flavoured with chilli sauce.
Tiny oat biscuits.
Small dry roasted potatoes.
For bought snacks choose lower fat crisps and breadsticks.
Dips can be made from salsas and low fat yoghurts.
Drinks
Fruit punches made with a selection of fruit and a base of low calorie squash.
Mixing orange juice with low calorie lemonade gives an easy St Clements type of drink – just decorate with orange and lemon slices.
Mix low calorie ginger ale with the low calorie lemonade.
Juices such as cranberry juice can easily be mixed with low calorie lemonade and decorated with berries and lemon slices.
Whatever you decide to do, try and eat things slowly by doing more chatting and passing plates around and generally helping. Ask for smaller portions of the high fat and high sugar items such as gateaux. Do watch the amount of alcohol you take especially if taking insulin as alcohol can reduce blood glucose levels. If possible stick to the lower alcohol drinks or alternate them with the ones containing alcohol.
Have a good time!
If we can be of help at any time or you would like more information about diabetes:
give us a call on 01604 622837
write to IDDT, Po Box 294, Northampton NN1 4XS