Diabetes – Foods, Meds and More
Diabetes – Foods, Meds and More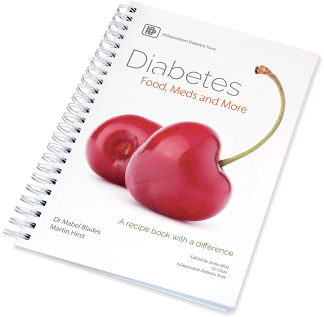 The aim of this new book is to help people with diabetes and their families to understand more about living with the condition with an emphasis on lifestyle, dietary information and recipes. However, it is not a typical recipe book, as it aims to cover real life, day to day situations.
The book has been written as a result of listening to people with diabetes and their families who contact the InDependent Diabetes Trust [IDDT]. People with diabetes or at risk of diabetes, are often told that they need to eat healthily and while this is not bad advice, it can leave people feeling confused and without the information they need, at what can be a stressful time.
Our experience is that healthy eating means different things to different people and despite views that people should not feel restricted by having diabetes, many people prefer to be given more direction about their diet, especially at the time of diagnosis, for special occasions or if they are unwell.
We differentiate between lifestyle essentials and lifestyle choices. The book not only includes everyday meals but also what to eat if you are ill, when you are taking exercise, if blood glucose levels are low, if you are travelling or if you are having a party. It also has sections for people with diabetes and coeliac disease, a lifestyle essential, and for vegetarians and vegans with diabetes, lifestyle choices.  It is a book to dip into when necessary rather than to read from cover to cover.
The book aims to cover:
Management – the different types of diabetes and information on lifestyle issues.
Medication – the ways Type 1 and Type 2 diabetes are treated, including information on different types of meals and how these link with insulin, medication and physical activity.
Meals – recipes and ideas for meals and snacks, including those for special occasions.
We hope that this book makes life a little easier for people with diabetes and their families and friends, who often worry about what meals to provide.
Finally, we would like to thank the people living with diabetes who have asked our charity for more information about food, drink and meals that they can eat safely. They and their needs are the inspiration for this book.
Click here to buy Diabetes – Foods, Meds and More in the IDDT Shop.
Click here to read a book review by Christine Michael.
About the authors
'Diabetes – Food, Meds and More' was co-written by Martin Hirst and Mabel Blades. They also co-wrote 'Diabetes – Everyday Eating', the InDependent Diabetes Trust's most popular booklet which helps people to know what they can eat, not what they can't!
Martin Hirst has several years of personal and professional experience of working with people with diabetes and he understands the difficulties that go along with the condition, including healthy eating
Mabel Blades has a PhD in diet and diabetes and is passionate about helping people to understand the benefits of healthy eating. She is the author of several books on nutrition.