Tips, Techniques, and Trials
Kettering Park Spa Hotel – Saturday 30 September 2023
The staff and trustees were delighted to welcome old friends and new to our get together. Slightly lower attendance than in previous years (the train strike had an impact) led to longer conversations and new connections – this is an event well worth attending!
We started with IDDT's Annual General Meeting. Full minutes are available to any member who requests them. Notable points were the huge increase in healthcare professionals requesting FREE leaflets, the success of the Ukraine appeal, and the generous increase in donations and legacy bequests from members.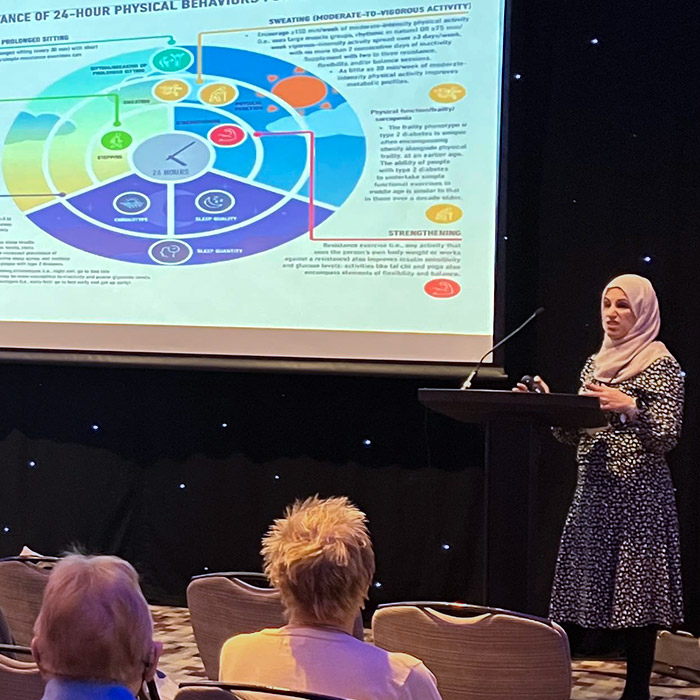 Newer Treatments in Diabetes and the Role of the Diabetes Specialist Pharmacist
A warm welcome was given to Samina Ali, especially as she came all the way from Glasgow! Samina is the lead pharmacist with a special interest in diabetes in a general practice – an initiative for improving the care of people with diabetes in that area.
Samina reminded us of the huge and increasing number of people living with diabetes in the UK (4.3 million, with 850,000 probably undiagnosed). Her talk covered topics as varied as optimum physical exercise for those living with Type 2 diabetes, shortages of certain drugs used to reduce HbA1c and cause weight loss and new developments such as once-weekly dosing of insulin (which could optimise control in those who cannot self-manage their diabetes).
Samina also spoke about trials into reduced calorie diets, and the difficulties transposing research results from clinical trials to real life.
On an 800-calorie diet, only 36% of participants were still in remission at 2 years, for example. It is now possible to purchase a kit privately to test HbA1c, a few pharmacies offer this as a service too.
There were lots of questions from the floor, including impact of low-calorie diets on hypoglycaemic risk and danger for drivers, and poor support from many NHS sectors. New insulin delivery devices were also discussed – wider availability will help more insulin users, and the potential improvements in blood glucose levels are impressive.
Samina also led a discussion group where individual issues to do with medication and lack of access to primary care services were discussed.
Download Samina's Presentation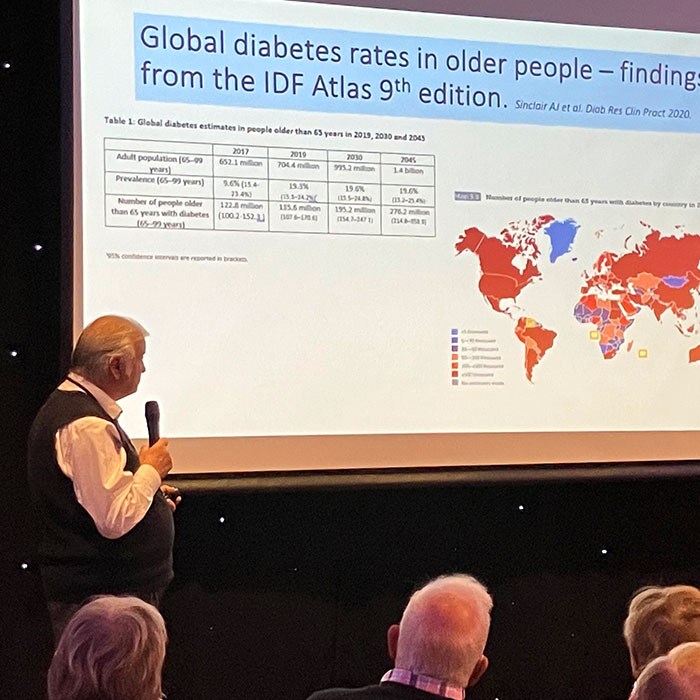 Primary Care Guidelines of Diabetes Care for Older Adults
Professor Alan Sinclair again offered the keynote address at our event, and this is a brief summary. Up to 40% of adults aged 70-80 will have Type 2 diabetes. Clinical manifestations of diabetes can be vague and non-specific in older adults and the diagnosis may be missed. Type 1 diabetes is also much more common in older adults than previously thought.
Management of diabetes in older adults can be problematic as there is a higher rate of co-morbidity and higher sensitivity to drug side effects. It is not uncommon for older adults to be on 6 or more drugs – and not all of them may be necessary. Professor Sinclair stressed the importance of "small gains", even minor improvements in day-to-day functioning can make a big difference. Frailty can be reversed by use of resistance training, such as using weights.
People with diabetes have a higher risk of needing care home treatment in later life, so any small improvement in cognitive or physical function can reduce this risk. In older life aiming for "tight control" and reduced HbA1c may not be ideal if there is no gain in quality of life. National guidelines for managing diabetes in care homes advise reducing medications or their doses if risk outweighs benefit.
Primary care guidelines focus on safety and early detection of risk for dependence, considering de-escalation of drug treatments as well as assessing frailty and preventive measures such as exercise, nutrition, oral health care and immunisations. A new frailty test involves a list of simple questions and no equipment. If a person answers 'Yes' to three or more, they are likely to have frailty.
Are you fatigued?
Are you able to walk 1 block (200 m)?
Do you have five or more illnesses?
Can you walk up one flight of stairs?
Have you lost more than 5% of your weight in less than six months?
Professor Sinclair's take-home message was to ask questions of your prescriber or pharmacist if you are unsure why you are taking a drug.
Why am I on this drug?
How will I benefit?
What are the potential risks?
Download Professor Sinclair's Presentation
The Latest on the Freestyle Libre
Jane Cheetham and colleague from Abbot Laboratories again joined us at our event. The Libre is a sensor which is worn for two weeks and reduces finger prick tests markedly. It can be read by a smartphone app, and importantly a handheld scanner is available for the Libre 2 which means a smartphone is unnecessary. Libre users can share data with a healthcare professional or carer.
There is access to monthly webinars and the Abbot helpline. Since April 2022 anyone with Type 1 can request a Libre. The new Libre 2 is very small and has connectivity to the Ypso pump and an algorithm meaning micro-adjustments in insulin are automatic, leading to better control. Connectivity will soon be available with the Omnipod pump. Those with Type 2 diabetes controlled by multiple daily doses of insulin who have recurrent or severe hypoglycaemia or reduced hypoglycaemic awareness, are also eligible for a Libre 2.
Workshop 1 – Coping with diabetes-related stress
John Birbeck and Anne Aubin facilitated this discussion group, which was attended by people with Type 1 and Type 2 diabetes and carers. The stresses which were identified by participants included having multiple health problems, being unable to reach targets, being unable to focus on self-care because of external stresses like someone else's illness, lack of support/the wrong kind of support, sudden increases in workload, worry about a person with diabetes eg night hypos, being unable to stick to routine, frustration – at lack of control or with other people, lack of routine checks, hypos and loss of warnings, the relentlessness of diabetes and lack of possible spontaneity, and finally the impact of the menopause.
The group then looked at the body's reaction to stress – we release adrenaline, which can lead to us feeling panic, over-thinking, becoming irritable, or freezing and being unable to act. Adrenaline is also released as we go hypo. Cortisol is another stress chemical which is released in the early hours of the morning and is one of the chemicals that can cause insulin resistance leading to higher blood glucose. Many women going through the menopause also have insulin resistance. When our body can no longer pump out helpful stress chemicals, we can become fatigued, ill, depressed, or burned out. Some people find themselves eating too much when stressed – this is because "something to settle my stomach" does alter the body's chemical system and reduces adrenaline. Obviously this can only be a short-term solution for those of us with diabetes.
The group looked at coping strategies such as deep breathing exercises, walking in nature, talking to others (like attending this event!), and prioritising feel-good activities like hobbies.
For more information on this topic look out for announcements on the updated booklet on this topic from IDDT.
Workshop 2 – Neuropathy, Not to be Ignored
Professor Alan Sinclair and John Simpson of Neuropad led this workshop. Neuropathy is damage to nerves – microvascular (e.g. eyes, kidneys) or macrovascular (e.g. heart, brain). The resulting effects are sensory or motor problems. Patients experience pain, sleep disturbance and mood disorders. The largest nerves travel to the hands and feet which is why neuropathy affects the extremities most commonly.
Neuropathy was described as one of the most important complications of diabetes. All too often it is allowed to progress until a major symptom occurs. The only treatment for the symptoms is drug treatment, but lifestyle changes can help. Prevention is the key way forward with improved screening and treatment.
Neuropathy is growing in prevalence because of multiple factors including inactivity and food, food especially in less-developed countries. The impact of sedentary behaviour was discussed. People should get up and move about at least every hour not only to keep mobile but also glucose metabolism changes when sedentary.
Assessment – The most simple assessment is "Can you feel this?"
Palpation and observation – will pick up ulcers, infection oedema, swelling and check the arch of the foot. A tuning fork will check by using vibration. Neuropad tests are subjective and can be used at home to pick up problems early so that treatment or lifestyle change can take place. Costs – £1 billion is spent on foot ulcers per year in this country. There are 90,000 foot ulcers at any one time in this country.
IDDT initiatives, concerns, and work in progress
Jenny reported on the huge response to our Ukraine appeal – financial donations used to help to pay transportation costs and donations of unwanted, in-date insulin, meters, test strips, pens, toys and even sleeping bags. There was some concern expressed at this amount of this NHS waste.
IDDT has had a stand at several professionals' conferences and will be the charity sponsor at the Diabetes Professionals Conference at Olympia in November.
Huge numbers of free leaflets are being sent out to healthcare professionals. Over 5,000 copies of the latest publication Diet and Diabetes were requested in the first month of issue. 6000 GP practices now stock our leaflets (one sixth of total). 32,000 free booklets were sent out to healthcare professionals in the last three months.
IDDT recently partnered with TMH (The Media Company) and Orange Juice, a PR company, on a publicity campaign to raise public awareness of IDDT and what we offer with the slogan 'Diabetes? We're here to help.' This came about as a result of feedback from last year's conference, and from frequent calls to the helpline, that people are getting a diagnosis and then not being given information or support. The aim of the campaign is to increase membership and already there has been a marked increase in social media interactions, and 300 new members signed up in month one. More Type 1 and Type 2 insulin users have approached us than anticipated. Looking ahead the Trust will continue to provide quality publications to healthcare providers in the hope that fewer people will leave their surgery without information on diabetes and how to manage it, and we will continue to offer direct support.
Other conference highlights