Contact Us
Postal Address
InDependent Diabetes Trust
PO Box 294
Northampton
NN1 4XS
UK
IDDT International
An umbrella organisation for patient groups
Meet the team
IDDT runs thanks to a small but very dedicated staff team and we thought it would be a good idea to put names to faces.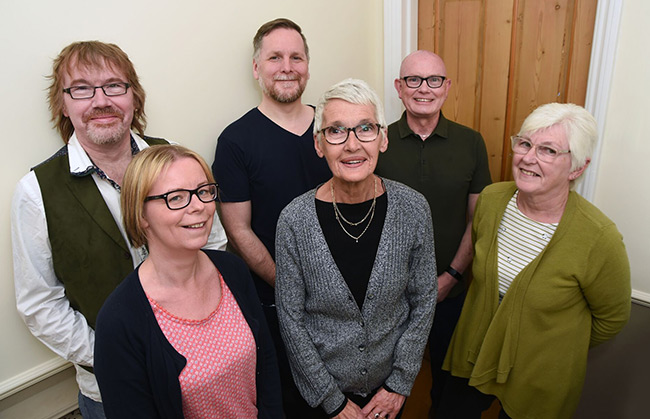 Top row, left to right, Martin Hirst, Matt Daybles, Keith Millhouse
Bottom row, left to right, Jo Wootton, Jenny Hirst, Rita East
Jenny Hirst – Board of Trustees Co-Chair. jenny@iddtinternational.org
Hi, My involvement with diabetes started in 1975 when my daughter was diagnosed with Type 1 diabetes. I co-founded IDDT 25 years ago with the aim of maintaining animal insulins for the people who need them and we have succeeded in this aim. I chair the Board of Trustees and we are jointly responsible for maintaining the good management of IDDT and further developing the organisation to help people with diabetes and their families.
Martin Hirst – Chief Executive Officer. martin@iddtinternational.org
Hi, I have worked for IDDT for over 12 years. I was originally recruited as Fundraising Manager, I am now the Charity's CEO and ensure that the charity operates within legal frameworks. With the help and support of a small but highly dedicated team we are able to promote the aims and objectives of the charity, namely, to support the needs of people who all live with diabetes.
Matt Daybles – Executive Support Officer.
Hi, I joined the IDDT team in April 2017, my main role is the overall running of the mailroom. This entails preparing and mailing orders of information packs and booklets, organising bulk mail-outs and email campaigns as well as the sorting and distribution of incoming mail. My duties also include recording stock levels of our publications and office supplies. Over my time I have also taken on extra duties such as assisting Martin with health and safety tasks and the recording, organising and mailing of insulin and diabetes supplies for the Insulin for Life program.
Rita East – Database Manager.rita@iddtinternational.org Retired October 2019
Keith Millhouse – Database Manager.
Hi, I am IDDT's Database Manager. I joined IDDT's, small, friendly team in April 2019. I'm responsible for maintaining the database of members, for managing membership renewals, general enquiries and ensuring all monies are managed and accounted for in the database. My varied role involves a wide range of administration tasks, such as generating letters, as well as answering the helpline.
Jo Wootton – Senior Database Administrator.
Hi, I have been with IDDT since October 2017, my mother-in-law has type 2 diabetes which is controlled by diet alone, I am a personal trainer by trade so I have an understanding of exercise and diabetes. My job within IDDT is varied I assist with the maintaining of the database of members as well as running the monthly lottery draw and the sending of insulin to Tanzania. I am also back up for the post room when Matt is away on holiday.
Each member of the team brings a valuable set of skills to the charity who, supported by the Board of Trustees, ensure that IDDT is able to support people living and working with diabetes. We hope that you will continue to give us your ongoing support. Thank you.