50% less sugar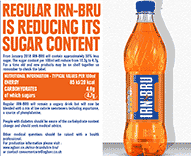 From January 2018 IRN-BRU will contain approximately 50% less sugar. The sugar content per 100ml will reduce from 10.3g to 4.7g. For a time old and new products may be on the shelf together so remember to check the label.
People with diabetes should be aware of the carbohydrate content change and should seek medical advice.
Please click the image to zoom in for all of the info.