Freestyle Libre available on the NHS!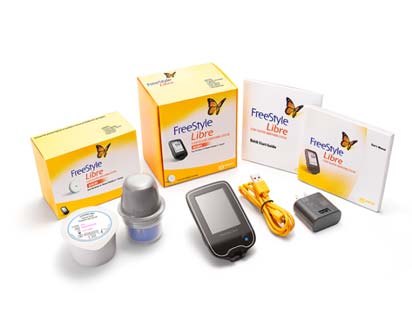 On September 13th it was announced that the Freestyle Libre by Abbott will be available on the NHS from November 1st 2017 for people with Type 1 diabetes. This is a device which checks blood glucose levels by scanning a sensor worn on the back of the arm without having to prick the fingers, so non-invasively. Globally there are over 300,000 users and it is available in more than 35 countries. It is referred to as a flash glucose sensing device and is currently the only one in existence.
It will be available for reimbursement via the NHS in England and Wales, NHS Scotland and Health and Social Care in Northern Ireland for people with Type 1 and 2 diabetes who are treating their diabetes intensively with insulin.
The sensor is about the size of a £2 coin worn on the back of the arm for up to 14 days with a probe that goes just under the skin. The sensor is 'flashed' with a scanning device which gives the glucose readings as a graph of the levels for the previous 8 hours and an arrow showing if the glucose levels are going up or down.
It seems like the answer to a prayer and people in the UK who are already using it by paying for the sensors, are full of praise for it. However, while national approval for the device has been given, this is subject to local health authority approval. So once again we run the risk of having a postcode lottery of availability despite evidence that flash glucose monitoring can improve blood glucose levels, reduce time spent in hypo- and hyperglycaemia and enable people, reduce HbA1cs and potentially reduce complications, not to mention improving the quality of life.
Naturally, IDDT believes that everyone with Type 1 and Type 2 diabetes using insulin who wants to use this device, should be allowed to do so, but will this happen? How will local health authorities decide who can or cannot have it or will some areas simply have a blanket ban? Will they understand and think about all the benefits that it could have on daily living and quality of life?
Here are just a few thoughts but there are many other examples:
In a family, the person sets off to work early in the morning while their partner with diabetes is still asleep, just a quick flash on the sensor, will let them know that their sleeping partner is just that – asleep and not hypo!
In schools, the designated teacher/carer would not have to do a finger-prick test. In addition, the parents would know what has been happening during the school day.
In residential care the staff are not allowed to finger-prick test because it is invasive, but with the Libre they could easily check the residents with diabetes to better manage their diabetes.
NOTE: We've recently had an enquiry regarding swimming with the FreeStyle Libra Patch, and have been advised that you can swim with the patch on, but no deeper than 1 metre under the water – and you should only swim with the patch on for 30 minutes at a time.
Back to news archive