Stepping Out For IDDT Appeal
Stepping Out For IDDT Appeal
We are grateful to our dedicated runners and supporters who work hard to raise awareness of IDDT and raise funds through sponsorship. This helps thousands of people to receive the support and information they need to make living with diabetes a little easier.
The information IDDT provides has been described as 'invaluable, easy to understand and life saving'. We want as many people as possible to receive this information.
YOU can help too without having to run a marathon! Everyone can help by stepping out to help someone with diabetes.
Every Step You Take
With our free T-shirt* every step you take could help someone with diabetes. If you are going for a run or simply walking to the shops or to school you can wear our T-shirts or an IDDT sticker to show people how to get in touch with IDDT.
To help you on your way, we will also give you a free IDDT pedometer* which will show exactly how many steps you have taken. Each month you can e-mail IDDT at bev@iddtinternational.org and let us know how many steps you have taken to help people with diabetes. Each month the steps will be added to and posted on IDDT's Home Page so we can all see how well we are doing.
Step Meter
This will display the total steps taken For IDDT, so remember to e-mail us your personal monthly totals!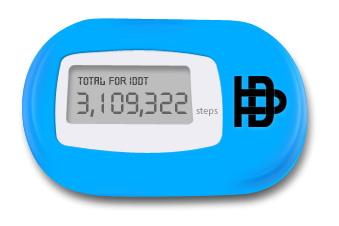 For your FREE T-shirt and pedometer e-mail
bev@iddtinternational.org or call 01604 622837
*applies to UK residents only
The response to our Stepping Out For IDDT Appeal during 2010 was fantastic. The year's winner was Rita East [and her dog Lily]. The Ross family who took 62,000 steps on the way to school also managed to raise £100 in the process. Bill and Stella Sass and Wilbert continue to offer huge support to Stepping Out and to raising awareness of the needs of children and adults with diabetes. So well done and thank you to Bill and Stella!
Thank you to everyone for helping to raise awareness of diabetes and the needs of adults and children who have to live with it.
Do you know what the guidelines say for how many steps per day you should take? Well, here they are:
Women
Men

Age

Steps per day

Age

Steps per day

18-40

12,000

18-50

12,000

40-50

11,000

50-60

10,000

50+

11,000

60+

8,000
[According to the Journal of Physical Activity and Health, January 2008]
For Your Free Wilbert T. Shirt and pedometer* please contact Bev on bev@iddtinternational.org or call her on 01604 622 837
*applies to UK residents only