Olly's £20 Challenge
Olly's £20 Challenge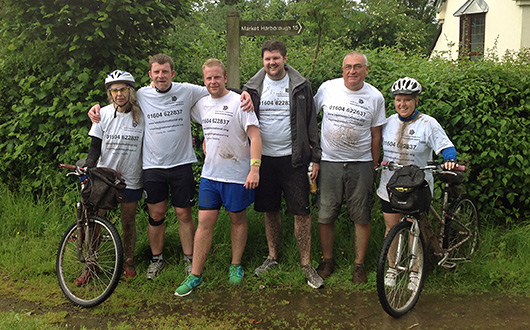 Oliver Jelley, known as 'Olly' and his brother Ben helped raise £500 by completing a 14-mile run from Market Harborough to Northampton. The brothers ran along the Brampton Valley Way on Saturday, June 7, to raise money for the InDependent Diabetes Trust's £20 Challenge.
The brothers were supported by Oliver's father-in-law John Mayhew and Tim Newman, who both cycled alongside the pair. Caroline York and Una Loughran, who both work for the charity, also took part in the challenge by cycling along the Brampton Valley Way to Market Harborough and back.
Oliver, 32, who runs Brixworth-based PR agency Orange Juice Communications and works with IDDT said: "It was wet and soggy. We were OK until the last three miles which were gruelling but we stuck at it and gritted our teeth to get to finishing line.
"We would like to thank everyone who supported and sponsored us. IDDT work tirelessly in the name of people with diabetes, helping to make their lives easier."
For more information about the IDDT's £20 Challenge, visit: www.iddt.org/news/the-20-challenge.