IDDT Conference, Kettering, Saturday 6th October 2018
IDDT Conference, Kettering, Saturday 6th October 2018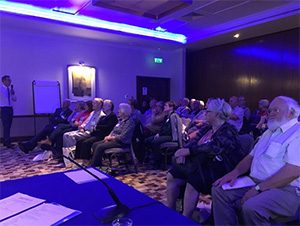 'Diabetes and the Media, Myths and Misunderstandings'
Dr Laurence Gerlis,
Dr Gerlis has been a Trustee and Medical Adviser to IDDT since its formation in 1994 and has played a big part in maintaining the availability of animal insulins. He also told the conference of his brother's diagnosis of Type 1 diabetes at the age of 13 and how his family have lived with diabetes.
In his presentation, he highlighted many of the false claims made in the media such as 'a cure for diabetes', 'media diet issues',' food content description issues' and how issues reported about diabetes are often inaccurate, even point blank wrong or as he described them as "simply bonkers". This adds to the public's confusion especially when there is no clarification of the difference between Type 1 and Type 2 diabetes which can be exploited by the pharma industry, the press and government. 
Dr Gerlis ended by saying that it is time to change the terminology as Type 1 and Type 2 diabetes have different causes, different symptoms and different management. He would like to see Insulin dependent diabetes being a special case to guarantee NHS funding for state-of-the-art treatment, such as with the FreeStyle Libre because unlike many other conditions, it is a life-long affecting children and adults and it has important complications. Treatment should not be at the whim of Clinical Commissioning Groups!
The delegates recognised the points he was making as many of us sometimes feel frustrated and angry with media reporting.
Neuroglycaemia
Dr Gary Adams
Dr Adams gave a description of patient and carer experiences of people living with diabetes over the last 25 – 30 years. His talk highlighted the experiences and needs of 'supportive others', the families and friends of people with diabetes or 'the carers', especially of those taking insulin. 
He pointed out that the brain only works when supplied with sugar in the blood, so when a hypo occurs this sugar is reduced and the brain malfunctions. This can show itself through personality and/or behaviour changes. Not only does the carer have to handle the hypo but also the behavioural changes which can be very upsetting. While understanding that the person who is hypo is totally unaware of their behaviour, it can lead to stress, fear and anxiety for the carer. 
Dr Adams highlighted that carers often know little about diabetes and have to learn along the way but they need education about diabetes and emotional support. The NHS education should include patients and carers and should include information about diet, exercise, eating times as well as dealing with hypos and any other problems that arise.
Many of the carers in the audience identified with so much of what Dr Adam said. Jenny Hirst pointed out, that the sad thing is that the situation has not really improved for carers and families of people with diabetes in the 40 plus years that she has been involved. So many people go unsupported and suffer stress, fear and anxiety some of which could be avoided with recognition of the role and needs of family carers.
Thanks
We would like to thank our two speakers for their excellent presentations. We must also thank Dr Mabel Blades, Dr Gary Adams and John Birbeck for leading the discussion groups as the delegates all appreciated having the time to discuss the issues that are important to them. It has to be said though that the postcode lottery of availability of the FreeStyle Libre was raised at every opportunity!