IDDT 14 Mile Challenge: Fundraising Pack

The third annual IDDT 14-mile challenge takes place on Saturday, July 9, 2016, and will see fundraisers walk, run or cycle their way along the Brampton Valley Way from Market Harborough, in Leicestershire, to Northampton.
They will be meeting outside the Windhover pub, in Chapel Brampton, NN6 8AA, which is very close to the finishing line, from 9.30am and leaving at 10am. Following the challenge, participants will gather at the Cinnamon Lounge, in Northampton Road, LE16 9HD.
A limited number of lifts will be available back to Market Harborough. For more information, contact organiser Oliver Jelley by emailing oliver.jelley@ojpr.co.uk or by calling 07803 003811.
Here are some of our valiant supporters at the end of the first IDDT challenge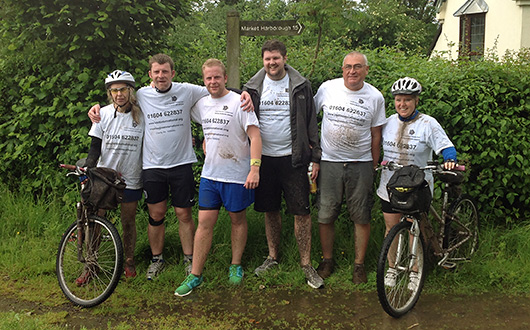 Fundraising Pack
Registration form – we'd like to register your challenge so we can celebrate your sterling efforts, so please fill in this short form.
Collecting the donations – from sponsorship forms to a link to the Just Giving website, some suggestions on the best ways to collect sponsorship.
Press release template – help get your challenge off to a flyer with an 'almost' ready-to-go press release for you to send to your local media. All you need to do is fill in a few blanks and send an accompanying picture.
Social media tips – social media can be such an easy way to generate sponsorship – learn about some simple tips and tricks with this quick guide.
Poster template – promote your challenge on the notice board of your village hall or local supermarket with this poster template. All you need to do is fill in the space provided.
For the less sporty people, here are some fundraising ideas to show your support for IDDT: Fundraising ideas
For more information and help, call 01604 622837.