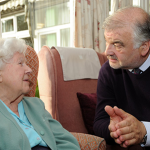 Diabetes care in nursing homes still remains "fragmented" and urgent steps need to be taken to restore the "health and dignity" of older people, leading experts have said.
A review of multiple studies carried out across 25 years involving residents with diabetes has slammed care home provision saying that care homes "often do not meet national standards" of diabetes care and staff training is "patchy". 
Lead author Professor Alan Sinclair, from the Foundation for Diabetes Research in Older People and University of Aston, said: "Our findings show the level of diabetes care remains fragmented which is quite worrying because figures suggest over a quarter of care home residents are believed to have the condition. Without proper management, it can lead to frailty, dependency, disability and reduced life expectancy.